SOPA 2022 Highlights and 5 Most Read Stories of the Year
It's that time of year. We are about to say goodbye to 2022!
What are your plans for the New Year? For many of our clients, the fact of moving to a new country indicates a new and fresh start. Nothing better than starting a new life right by making new year's resolutions? Whether it's finding a new job or settling in a new place, or simply spending time with family and friends. Before we start planning and welcoming a new year, we wanted to look back at the wonderful things that happened to SOPA this year!
We wanted to start by thanking all SOPA clients for trusting our program at such a crucial time of their lives and arriving prepared in Canada using our programs and services! All the while, behind the scenes, all SOPA staff across Canada are working hard and making sure that each and every one of our clients get timely, reliable, personalized and professional support before their arrival.
Below is a short list of some of SOPA highlights in 2022 and the top 5 most-read blog posts for the year.
SOPA highlights of the year:
We refined and refreshed our brand look and in 2022 we continued working on our new website. After many hours of hard work, our clients' feedback and continuous communication with all of our teams across Canada, we launched our new improved website in May 2022! Have you checked it out? arriveprepared.ca
Do you speak French? If you do, we have translated all our website content into French too! Although the SOPA program only offers courses and services in English, if you speak French, we will refer you to our partner organizations that offer similar pre-arrival services in French.
We launched a new initiative SOPA for Youth in July! 32 youth clients went through this course already! Our Passport to Success is a pre-employment course designed for youth ages 15-30 who are waiting to immigrate to Canada. If you know anyone who fits this category, make sure to let them know!
Our SOPA for Refugees initiative 'Ready to Work' was launched last year. This year we helped 50 refugee clients to arrive better prepared for their lives in Canada. Check out our Ready to Work initiative.
We launched a series of videos of our client testimonials that were created by our SOPA Saskatchewan team and our partner organization Regina Open Door Society. Have you checked them out yet?
We started this year by posting social media posts curated by our teams across Canada. So that our posts are useful and relevant to you, wherever in Canada you are going. Every week our #SOPA teams across #Canada curate their posts for each week. Follow these hashtags to #ArrivePrepared #SOPABC #SOPAAB #SOPASK #SOPAMB #SOPAON #SOPAAT #SOPABlog for our blog posts
SOPA has evolved, grown, and become more stable since it was first launched in November 2015. And this year we celebrated 7th year since launch! Our program is empowered by passionate teams across Canada who work together to help immigrants arrive prepared for their Canadian journey. We are grateful to all our SOPA Teams across Canada (British Columbia, Alberta, Saskatchewan, Manitoba, Ontario, and Atlantic Provinces) for their hard work and dedication. We are thankful to our clients for their continuous trust and feedback. It helps us grow and get stronger.
We have shared many remarkable client stories and blog posts during this year. We are going to highlight the top 5 that were most read according to Google analytics. You can find all our success stories and informative posts on our website!
SOPA's top 5 most-read blog posts of the year
If you are or were a client of SOPA and would like to share your own story, please send us a message at info@arriveprepared.ca, and we will help you write and edit it. You will be SOPA famous.
We will continue sharing our amazing client stories and creating informative content for you in 2023, and if you have any questions or suggestions, be sure to send them to us: info@arriveprepred.ca
We at SOPA understand the importance of arriving prepared. And our clients do, too! SOPA clients are telling us again and again that they are arriving more confident, more knowledgeable and better prepared for their working life in Canada. To learn more about SOPA (Settlement Online Pre-Arrival) and whether you might qualify for our courses, please find us at arriveprepared.ca. We love to help newcomers to arrive prepared for life and work in Canada!
Here is what your SOPA journey will look like! Am I eligible?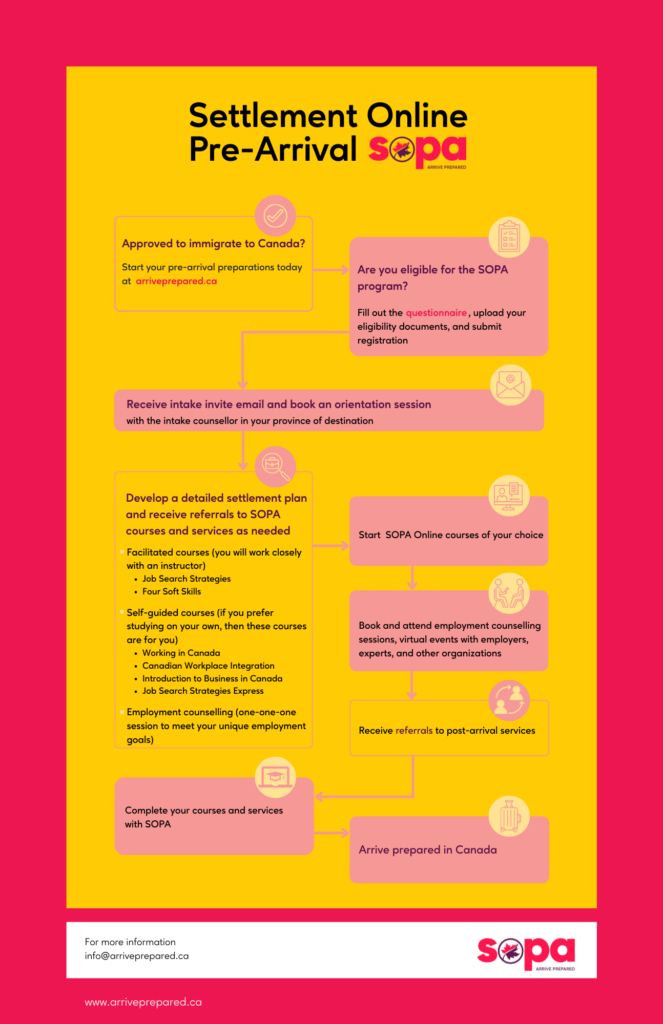 Prepared by Albina Ziatdinova, SOPA Online Community and Social Media Monitor
Albina Ziatdinova is based at the Immigrant Services Association of Nova Scotia (ISANS) in Halifax, Nova Scotia and currently monitors all 4 SOPA's self-guided courses for all of the provinces where the SOPA program is offered. She also monitors, curates and coordinates SOPA's blog and all main social media channels. Albina is an immigrant herself and she knows just how important is to get timely and reliable information. She immigrated 10 years ago to Halifax, NS and since then has been working at ISANS. Albina is passionate about helping clients arrive better prepared.