Farhad Ahmad: You need the right tools to prepare for the Canadian job market
Farhad Ahmad immigrated recently from Afghanistan to Vancouver, British Columbia. Farhad is an experienced professional. He worked in the field of management consulting and strategic planning. Before coming to Canada he used SOPA services to a great extent and he is grateful for the help he received. He is now working as a Member Service Representative with a Credit Union VanCity. Farhad shares his story, approach and tips on how to prepare to find a job in Canada by answering our six questions. Thank you, Farhad!

1. Can you please tell us a little bit about yourself?
My name is Farhad Ahmad, I am from Afghanistan and I arrived to Canada in February 2021.
I have 5 years of professional experience in management consulting and strategic planning.
Back in Afghanistan I worked in various roles with development banks; such as Asian Development Bank, the World Bank Group, Pashtany Bank, and the Ministry of Finance
. Since my arrival to Canada I had been
actively
seeking a role within the financial industry. And I
successfully
secured a Member Service Representative position with Credit Union VanCity.
2. Please summarize your employment journey in Canada.
As a
newly
approved permanent resident, I needed to learn about pre-arrival opportunities.
I wanted to connect to immigrant settlement organizations that helped with pre-arrival planning, and to prepare before moving to Canada
. I found out about SOPA through a friend who was SOPA client and who
highly
recommended that I use SOPA services. I registered and SOPA assisted on my pre-arrival planning.
Through SOPA I learned about what I needed to consider during my transition to Canada, to understand the job market in BC, and how I could improve my applications and resume
.
I
was referred
to SOPA's Employment Counselling, and that's how I met Linda Ragoonanan, and Employment Counsellor located in Vancouver, BC
.
3. How did SOPA change your approach to seeking employment in Canada?
SOPA has been very helpful in helping me prepare me for the labour market, explaining the NOC codes and how it should reflect on my resume
.
SOPA also supported me in building local connections, and guided through the career planning phases
.
SOPA also assisted me during the transition period, trained me on preparation for the Canadian job market, provided me detailed information about the role I was seeking
. I got help with tailoring my resume to the role and the organization. SOPA's staff were proactive whenever I needed
assistance
.
Also, SOPA connected me with other professionals, which was an outstanding support.
4. What strategies have you used to find a job?
To prepare myself for the Canadian job market, as a job hunter, I had to equip myself with the right tools.
I needed to get familiar with companies, work related terms, explore potential employers, learn networking skills, build local network, improve resume and cover letter
. I also needed to find ways to connect to the right people within the industry, among the many other things.
All the above goals
were accomplished
through attending online workshops, conferences, job fairs, courses, webinars, and networking events
. I utilized the SOPA services to the
maximum
extent, and I found them so useful.
5. What are some of the challenges you had in your job search process?
I have 5 years of professional experience in the finance industry plus BBA and MBA in Finance.
Some employers considered me over-qualified for their positions, while others considered me under-qualified because of lack of the Canadian experience
.
This has been a major challenge for me since I wanted to be in the finance industry.
I wanted to get a specific job that I was passionate about, and I was sure I could help achieve great objectives for my employer and myself
.
To overcome the challenge, I worked on my personal network, developed a networking map, prepared a list of key employers in the industry
. I also approached employees within the companies I wanted to work with. This helped me understand the employers' requirements and my approach to the interviews.
I learned how to tackle complex interview questions and I excelled during my interviews
.
Understanding the interview patterns and being able to develop local network (references according to the Canadian culture) helped me connect with the employers, navigate my way, and secure a job
.
6. Are there any tips for other newcomers that you can share?
All newcomers are
highly
recommended to work on building local network,
acquire
needed professional certifications, and
utilize
services provided by well-established immigrant settlement organizations
.
Connect with organizations providing pre-arrival services such as SOPA, as soon as you
are approved
to immigrate
. This would help you a lot in securing a job in a short time.
I am very grateful to SOPA team, in particular my counsellor, Linda Ragoonanan for her consistent support during this time
.
She was always there to assist me in revising my resume and cover letter, providing me tips on interviews, and even having a mock interview session with me
.
Thank you so much, Linda and all SOPA Team!
Are you approved to immigrate to Canada? Join SOPA today! You'll arrive in Canada better prepared, more confident and enter the workforce sooner.
Settlement Online Pre-Arrival (SOPA) is an Immigration, Refugees & Citizenship Canada (IRCC) funded program that delivers free pre-arrival services for job readiness, success and retention.Explore the free, pre-arrival resources, services and courses we offer at ArrivePrepared.ca.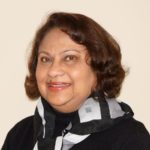 Linda Ragoonanan is an employment specialist with SOPA British Columbia, specialized in working with pre-arrival immigrants. She moved to Canada over thirty years ago and has seventeen years of experience with the employment industry. Linda is knowledgeable in supporting clients with their concerns regarding credentials, labour market, licensure, certification, resume, mock interview, and other questions on employment and settlement. Linda is fortunate to work with Job Search Strategies, Soft Skills, Working in Canada, and Workplace Communication. During her career she facilitated / advised over two thousand clients in different sectors of the job market. Being passionate about people, culture and writing success stories, Linda's experience expands from Tourism and Hospitality, Skill Programs and Pre-Arrival services. She believes that knowing how things work in advance can make a tangible difference to new arrivals.