Q&A With SOPA's Job Search Strategies Graduates
Before coming to Canada it seems one thing that worries most newcomers is how to find their dream job. No wonder that our 'Job Search Strategies' course is one of the popular courses among our 5 online courses. In this intensive 6-week course clients work closely with our highly experienced facilitators and receive feedback on their resume and cover letter, get tips on creating successful LinkedIn accounts and so much more. Recent graduates Julius Okwo, Ashish Rane and Lucky Uwuigbe kindly share what they have learned as a result of registering with our pre-arrival SOPA program. Thank you, Julius, Lucky and Ashish, we wish you all the best in your job search and settlement in Canada!
How would you describe your SOPA experience?
Julius Okwo: My SOPA experience was awesome, the learning model was very creative, the practical examples and assignments were very informative and generally my facilitator made the tasks pretty much enjoyable, as she ensured it was interactive and that I learnt something new after each week.
Ashish Rane: Excellent. There are so many areas that are not known and it's good to see SOPA courses from ISANS that provide all the relevant information in detail. This definitely helps new immigrants to at least know where and who to look to for advice. Apart from job search, there are so many other things like cultural differences and code of conduct in Canadian workplace.
Lucky Uwuigbe: SOPA is a great program that adequately prepares immigrants to settle quickly when they arrive in Canada.
What did you learn from the SOPA program that helped prepare you for your job search? 
Julius Okwo: The job search strategy course prepared me not just for job search, but also for interviews and communication skills especially with Canadian employers. Targeting my resume and cover letter was something not new to me but the new formats I got from the SOPA program made it seamless and easy to adopt any job description into my experience, and eventually to my resume to ensure a nod from employers I apply to who will receive and review my employment portfolio.
Ashish Rane: It really did help a lot. Especially the resume and cover letter format is quite different in Canada than other places like Europe, Australia and India where I had worked earlier. Also, the various methods really help with preparing your application and also for the interview. The one thing that stands out is to record your audio when giving a mock interview and then listen to it. I realized so many things that I can improve on which otherwise would not have been possible. The preparation of a list of questions that we anticipate also is quite helpful as it helps to minimize any real surprises in the interview.
Lucky Uwuigbe: The SOPA courses taken have educated me on the Canada workplace culture especially on the emphasis on soft skills, resume and cover letter targeting, networking and calling cards, presentation skills and meetings, preparing for interviews, accessing the hidden job market, and being a professional Canadian.
If you feel more prepared for the Canadian workplace, how did SOPA help to prepare you?
Julius Okwo: Before I started the JSS program with SOPA, I was already feeling like I had what it took to secure a job in Canada, but as I started each module was a new learning point. I became excited each time I open the portal to participate in the week's module and assignments. Even before the last module I was wishing more modules would unfold as each module came with a different item to learn and adopt. I feel so prepared especially with the practical examples and assignments, I loved the constructive feedback I got from my facilitator, it was awesome and right now I feel ready to take on any interview and workplace in Canada.
Ashish Rane: I think after going through the JSS and WIC courses I feel more confident about how to easily integrate and perform well in a Canadian workplace. Apart from the core hard skills, it helped me focus on what soft skills are needed to succeed.
Imagine you saw a job ad that you would like to apply to, what things that you learned from SOPA would you apply?
Julius Okwo: First is to study the employer's expectations on the job and understand the required skills and the deliverables as it relates to my current skills and experience. These are just steps I learnt from SOPA in a few weeks of participation, not to mention targeting my resume and cover letter to ensure and demonstrate to the employer that I am fully aware, and consciously ready to be employed by the organization. I cannot over emphasize that SOPA really brought out the best in me and I am excited.
Ashish Rane: Important thing that I learned is to tailor the resume to the job description. Also, based on the tailored resume and information researched from the company website and internet prepare a list of possible questions and practice answering them. Review your answers either with third person or audio recording. Also, look at the job description and the kind of work the company does to match them up to your skills and refresh those skills more.
Lucky Uwuigbe: I have learned about 30 second speech. Hello, my name is Lucky Uwuigbe. I have 15 years' experience in the field of telecommunications. My skills include network design, implementation and management. As a telecommunication specialist, I have developed excellent troubleshooting, documentation and interpersonal skills. I am organized and adaptable, and have strong customer focused and results-oriented capability to exceed customers' expectations. I have a Bachelor of Science degree in Computer Science from the University of Benin, Nigeria.
Imagine you are in a new Canadian workplace, what Soft Skills would you apply to your new job?
Ashish Rane: The main thing is to observe very carefully how people behave and in general what is the work culture and ethics like. Being confident and friendly helps but most important to show that you are flexible (in terms of the roles, work, skills, time) and treat everyone with respect. Be professional in your attire and try to easily blend in with the existing employees over lunch or coffee.
Another important thing is to respect and follow the rules both written and unwritten. Be proactive and suggest improvements based your experience. Basically it's good to show that care about the company and have a sense of belonging towards it and want to help its progress.
What do you think could make the SOPA program even better?
Ashish Rane: In my opinion, the program is very okay as it is right now.
Lucky Uwuigbe: SOPA could improve by adding simulation features that allows SOPA clients to have a REAL life experience or feeling on the Canada job search and application, mock interview, and networking and follow-up.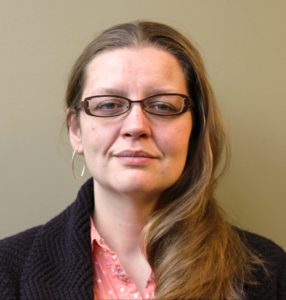 Interviews prepared by Ania Swiatoniowski , Job Search Strategies Facilitator, Atlantic Provinces
Ania Swiatoniowski is an experienced instructor and writer, based out of the Immigrant Services Association of Nova Scotia (ISANS) office in Halifax, Nova Scotia. She is SOPA's Job Search Strategies Facilitator for Atlantic Canada, supporting clients destined for Nova Scotia, New Brunswick, Prince Edward Island, and Newfoundland and Labrador. Having grown up in an immigrant household, Ania understands the particular challenges faced by newcomers to Canada. She is dedicated to helping newcomers bridge the gap between arrival and employment as quickly as possible.