How To Use LinkedIn In Your Job Search
When you start your job search first thing you do is work on your resume. You think through details and make sure that it's targeted to the job you are applying.
However
, employers now look beyond your resume and looking up or ask if you have a LinkedIn profile?
LinkedIn profile is not a replacement of your resume but an addition. What you didn't add in your resume, you can highlight or elaborate in your LinkedIn profile.
Yet, before you start sending out the link to your LinkedIn account, here are some tips to help you set up your LinkedIn profile and make your profile stand out
.
Improving your LinkedIn profile will help employers in their search for a specialist with your qualifications
.
Your profile will look professional, clear and easy to scan and find the most important information right away
.
Photo:
Let's start with your photo.
Your photo should be a professional head-shot or a good professional looking close up, a selfie with a clear background
. Try to smile and look approachable. This is the first impression employers get of you, so make sure it's represents you in a best way possible.
There are apps available to help you enhance your photo or give your selfie that professional look
.
LinkedIn also offers filters to help you enhance your photo when uploading:
LinkedIn Photo
Did you know that you can personalize your profile by adding a background photo? The right background photo can enhance your profile even more.
Job Title:
Now let's look at your job title, in LinkedIn it's called 'profile headline'. Your headline should be more than your job title. You can talk about your unique qualifications in the profile headline. The job title in your home country may not always be the same as here in Canada. So, research similar jobs in Canada, compare your skills and see if this is the job title you want to go by in Canada. Keep in mind that employers will use key words to find specialists, make sure you are using the right ones .
Use the 120 characters in the headline section to your best advantage. Use the separator bar | to separate key words and phrases. More tips on
how to make the most out of your headline
by The Muse experts.
Summary:
This is your 30-second pitch. This is a great way to tell employers about your most important qualifications. Think about what you want employers to see about you first. Write down all the things that you think are telling the best professional story about you. Try to talk about what you are doing now, not your past experiences. Again make sure you are using key words that employers will be using during their search. Include accomplishments, keywords, call to action. Turn your summary into your story.
Be careful when using key words try to not overuse them. Choose keywords relevant to the skills you have or the job you had. Here is a list of the
most overused buzzwords
.
Adding a video bio of yourself will make you stand out among other candidates. If you have photos, or presentations that can add value to your skills, add them to your summary.
Did you know that you can change your profile to 'seeking job opportunities'?
Just
activate that under 'Settings'.
Your photo, job title and summary are the first three things that will either make or break an impression of your LinkedIn profile
.
Experience:
You may either list positions that you think will be the most beneficial for the position or make a list of all your work experience
. After all, you never know what will catch an eye of an employer in your profile.
That 6 months' project may tell employer something that they are looking for in their future candidate
. It's your call.
Recommendations:
Ask for recommendations from your current and former colleagues, team leads and managers
. When asking for recommendations make sure to include a text that you'd like the person to use. So that they write something that you'd like to show on your profile.
If you are giving recommendations, talk about how this person actually helped you and why you are recommending them
.
If you think that the recommendation that you have on your profile is not relevant, you can hide them from your profile
.
Endorsements:
Endorsements are still used,
however
, they are not as popular as they used to be. Sometimes LinkedIn may show skills that you may not have but have
been endorsed by
someone.
Contact information:
Go to the 'Settings' and make sure that your email address and phone number are current
. If you have social media accounts that can add value, you can show them here as well.
Connections:
While growing your network, don't send out invitations left and right without thinking
. Learn more about person you are connecting with.
See if connecting with them will be beneficial in any way to both of you and if you decide to connect, personalize the invitation to connect
. Don't send your resume and do not try to talk about how you need a job upon connecting. But if that's your goal be upfront in your invitation to connect.
Follow relevant Companies' pages, industry leaders and influencers. That way your news-feed will fill up with articles and advice that's relevant to you or the job you are looking for.
Groups:
Join groups that you think will help you learn something new about your field of work or help you in your job search
. Join in the conversations, answer questions, provide feedback to show your expertise. You can choose which groups appear on your profile and hide those that you think are not appropriate.
Blogging:
LinkedIn has a 'Pulse' section which is
similar to
blogging. If you think that you can share your expertise and/or tips in your field, it's a great place to share your thoughts. It will show employers that you are knowledgeable in the field that you are applying for. If you already have a blog, you can rotate your content on LinkedIn Pulse.
Commenting/Sharing content:
Share relevant content to your LinkedIn feed.
Try not to share things that are too personal and try to keep your LinkedIn profile related to your profession
. Comment.
Commenting is also more likely to draw more comments, which can raise your profile across LinkedIn
. Keep in mind when commenting that you're saying something that shows you in a good light.
The more you share and comment on relevant content, the more it can help employers learn about your skills and knowledge
.
When sharing status updates, you can tell your professional connections about your job searching
.
Email notifications: This mostly to help you to not to miss that important email from a potential employer.

If you are getting too many emails and notifications from LinkedIn, go into the 'Settings' and find tab 'Communications'
. You should be able to stop most of the emails and choose only the ones that you'd like to keep receiving.
Your unique URL:
Last but not the least, customize your URL to your profile. Then add the link to your LinkedIn profile on your resume and/or your email signature. It's is better to use your first name and last name in the URL. To change your URL: click on profile and then click edit profile and click edit right under your photo. Voila.
Some of the tips that I'm mentioning in this post I learned during the Social Media course that I did with Labour and Advanced Education NS with Anita Kirkbride
. Anita has also a great blog post on
tips for improving your LinkedIn profile.
Post written by: Albina Ziatdinova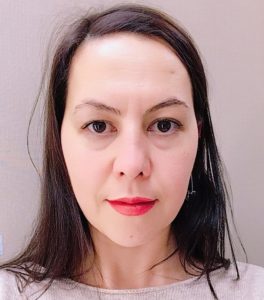 Albina Ziatdinova is based at the Immigrant Services Association of Nova Scotia (ISANS) in Halifax and currently monitors SOPA's two self-guided courses: 'Canadian Workplace Integration' and 'Working in Canada' for all of the provinces where SOPA program is offered. She also monitors and coordinates SOPA's main social media channels. Albina is an immigrant herself and she knows just how important is to get a timely and reliable information. She immigrated 6 years ago to Halifax, NS and since then has been working at ISANS. Albina is passionate about helping clients arrive better prepared.