Guest post: Falling in love with Calgary's Parks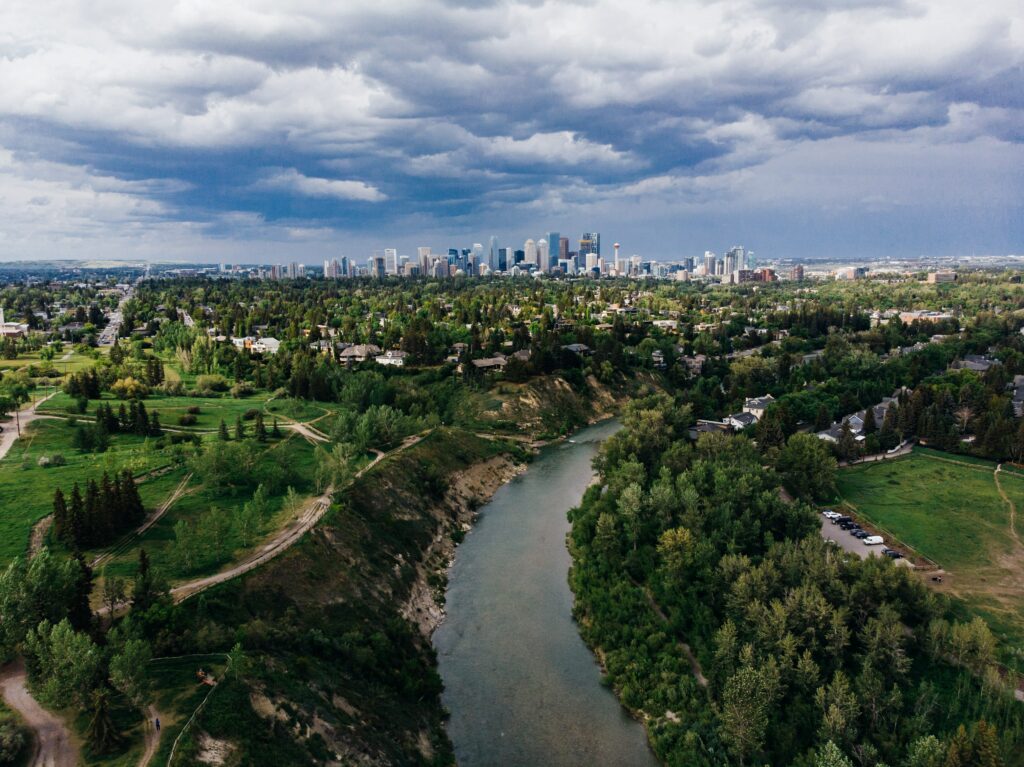 Hold on to what is good, even if it's a handful of earth.
Hold on to what you believe, even if it's a tree that stands by itself.
Hold on to what you must do, even if it's a long way from here.
Hold on to your life, even if it's easier to let go.
Hold on to my hand, even if someday I'll be gone away from you.

— Isapo-muxika (Crowfoot), Blackfoot warrior and orator 1830 – 1890
As new immigrants, we leave behind the people and places we are familiar with and step into the unknown. Finding our feet is hard and we need to seek out joy and peace amid the turbulence of so much change. One of the best ways to do this is by connecting with nature because exposure to green and blue spaces has been known to have a positive effect on mental health1.
It's a good thing then, that Alberta, and Calgary in particular, is blessed with an abundance of parks. There's Banff, Jasper and Waterton Lakes just a day trip away from the city. You'll hear Calgarians wax eloquent on the beauty of these national parks boasting about the awesome slopes in winter and charming hikes in spring and summer. But did you know that Alberta is home to the four largest urban parks in Canada, two of which—Nose Hill and Fish Creek—are in Calgary?
Calgary has a whopping 8,500 hectares of parkland and natural areas2. Let's take a look at where you can meander down pretty paths in summer or take a mini-hike when life gets you down. In winter, these transform into tiny hubs for winter sports such as ice skating, cross-country skiing and sledding.
Downtown Calgary
Get the best of a green and blue magical nature boost at Prince's Island Park. Located in the heart of downtown, you can watch geese gliding on the Bow River and then walk along the paths or sit on a bench among the trees. In winter, try some cross-country skiing or outdoor skating on the lagoon.
Head to the CORE Shopping Centre to find these amazing botanical gardens inside the mall. Yes! Inside! Take a break from the hustle and bustle of downtown. Marvel at the symbiosis of science and nature in the Living Wall, a natural biofilter. Find your zen by staring at the koi fish. Let your kids go crazy in the children's play area or on the climbing wall.
Northwest Calgary
Nose Hill Natural Environment Park is one of the largest urban parks in Canada. Nose Hill, or Look Out Hill, was a sacred place for Siksikaitsitapi (Blackfoot people). Look for the landmark designed by Kainai elder, Aatso'taowa (Andy Blackwater). Walk, run, or bike one of the numerous trails for a chance to discover true Prairie flora and fauna. Take to the several family-friendly trails and see if you can sight deer, coyote or even a bear. There are even strenuous trails for the more adventurous nature lover.
Southwest Calgary
This park dates back to 1883, when Thomas Edworthy bought the land and mined it for sandstone. Hike along the trail that has the easternmost stand of Douglas-fir trees in Canada, some of which are more than 350 years old! End the day with a meal at Angel's Café. Shake things up and have breakfast for dinner with their All-Day Breakfast on a Bun or catch some of their live music shows.
North and South Glenmore Parks
As indicated by their names, these parks are located on the north and south sides of Glenmore Reservoir. At North Glenmore, you can join the Calgary Canoe Club or the Calgary Rowing Club depending on how serious you want to get about sitting in a floatation device and rowing.
At South Glenmore take a sailing course or sit back and watch the sailboats go by.
Southeast Calgary
Nested in the western part of the charming eclectic neighbourhood of Inglewood, the Inglewood Bird Sanctuary is home to 270 species of birds, 21 species of mammals and 347 species of plants3. So, grab those binoculars and go birdwatching. No clue how to start? There are programs to teach exactly that as part of the Parks Nature Programs! Inglewood also has a rotating exhibition of indigenous artwork so that you can learn about the land and get your culture fix at the same time.
This gorgeous park is a great place to connect with nature. Take to the waterways on a canoe or go fishing. Or get on your good hiking boots and spot deer or go birdwatching. If you're in the park at dawn or dusk, you might even spot the eponymous nocturnal beaver.
Fun fact: Several places in Alberta are named after this clever dam builder. Did you know that the Cree name for Edmonton is 'amiskowatsi-waski-gan' which means 'beaver hills house'?
Northeast Calgary
Head to West Nose Creek Park a.k.a. Confluence Park to find Split Rock, a glacial erratic (a chunk of rock transported and deposited by a glacier). Bike the gentle paths are great for beginners or a short jaunt for the family. This is also an off-leash park so you can bring your four-legged friend along on your jog or walk.
If you've got a doggo who was born to run free, there are many off-leash dog parks sprinkled across the city where your furry friend can hang out with their furry pals. Take a look at the City of Calgary website to find the parks located closest to you, plan fun activities, or even book a park for an upcoming event.
References and Notes:
---
Written by: Alison Rebello, Program Assistant Volunteer, SOPA Alberta
As part of her pre-arrival preparation, Alison completed the SOPA program and is now volunteering so that she can pay it forward.
Having recently moved to Calgary, she is in the process of discovering her new home and its people. You'll often find her striking up conversations with complete strangers because she believes everyone has an interesting story to tell. By sharing her learning and experiences, she hopes to ease the settlement process for other newcomers.