Greetings all,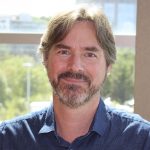 It's 2017 and we have passed SOPA's one-year anniversary – an exciting event marked by a virtual gathering of the national staff, celebrating staff and client successes.
And by the time you read this newsletter, SOPA will have over 2100 client registrations and we are still very proud to say that our biggest source of referrals is friends, family or acquaintances who have participated in or are familiar with SOPA. There is nothing more powerful than these endorsements from our clients. Again, we must say thanks to the many who have praised and recommended the program. It's a significant part of the success of SOPA. So, thank you! And keep spreading the news!
Another important part of our success is our partnerships. We couldn't move forward without them. We have, of course, partnerships with the organizations who directly deliver the SOPA Program across the country and every day they are doing terrific work for our clients. We also have partnerships, formal and informal, with many other organizations across the country. One of those organizations is Next Stop Canada. Please take a few minutes and check out our Featured Partner section below to read more about Next Stop Canada.
As always, there's lots to talk about in the world of pre-arrival services, but I will let the SOPA team take over. Please read on for client success stories, a great interview with a recent SOPA graduate, our regular social media update, and much more!
And don't forget to engage with us through social media, we're on all the major channels. If you're not on LinkedIn yet, you should be. Join this rapidly growing professional network and I will see you there!
Please visit arriveprepared.ca for more information about the SOPA program and for additional editions of the Arrive Prepared Insider. We welcome your comments and suggestions on our content. New editions are published quarterly.
– Andrew Leverman
Project Lead, SOPA
Featured Partner
Be Better Prepared for Your New Life with Next Stop Canada
On April 1st, 2016, the YMCA of Greater Toronto's Immigrant Services launched their pre-arrival program Next Stop Canada. Funded by Immigration, Refugees and Citizenship Canada (IRCC), the program's primary objective is to provide quality settlement services to new immigrants before they arrive in Canada. The staff at Next Stop Canada, being immigrants themselves, have firsthand experience and bring with them a unique and insightful perspective on the settlement process.
Next Stop Canada's services focus on the different needs of adults and youth as they prepare for their new lives in Canada. Clients who register their children can take advantage of the only youth pre-arrival service designed to better prepare immigrant youth for their transition to school in Canada. The youth program, for those 12 to 19 years old, provides access to self-directed learning modules, interactive videos and a mentorship program which connects youth to other successful Canadian immigrant youth.
Clients who register with the adult services have access to the unique live chat feature, which allows an Information and Referral Specialist to assess their situation and provide them with a personalized settlement plan based on their individual needs. Clients also have access to information about various aspects of life in Canada, including finding a place to live, the Canadian health system, banking and finance, community services, and much more. To be eligible for these services and to register for the program, clients must have received an official invitation to immigrate to Canada, be residing outside of Canada, and must be able to submit the required documentation.
Enrolling in this pre-arrival program can help alleviate many of the fears and misconceptions that new immigrants may have while preparing for their journey. Next Stop Canada understands the anxiety, excitement and uncertainties that come with immigrating to a new country. With Next Stop Canada, clients will feel more confident about settling in their new home, adapting to Canadian culture and building a network before their arrival.
For more information about to access the Next Stop Canada program, visit www.nextstopcanada.ca or email info@nextstopcanada.ca today.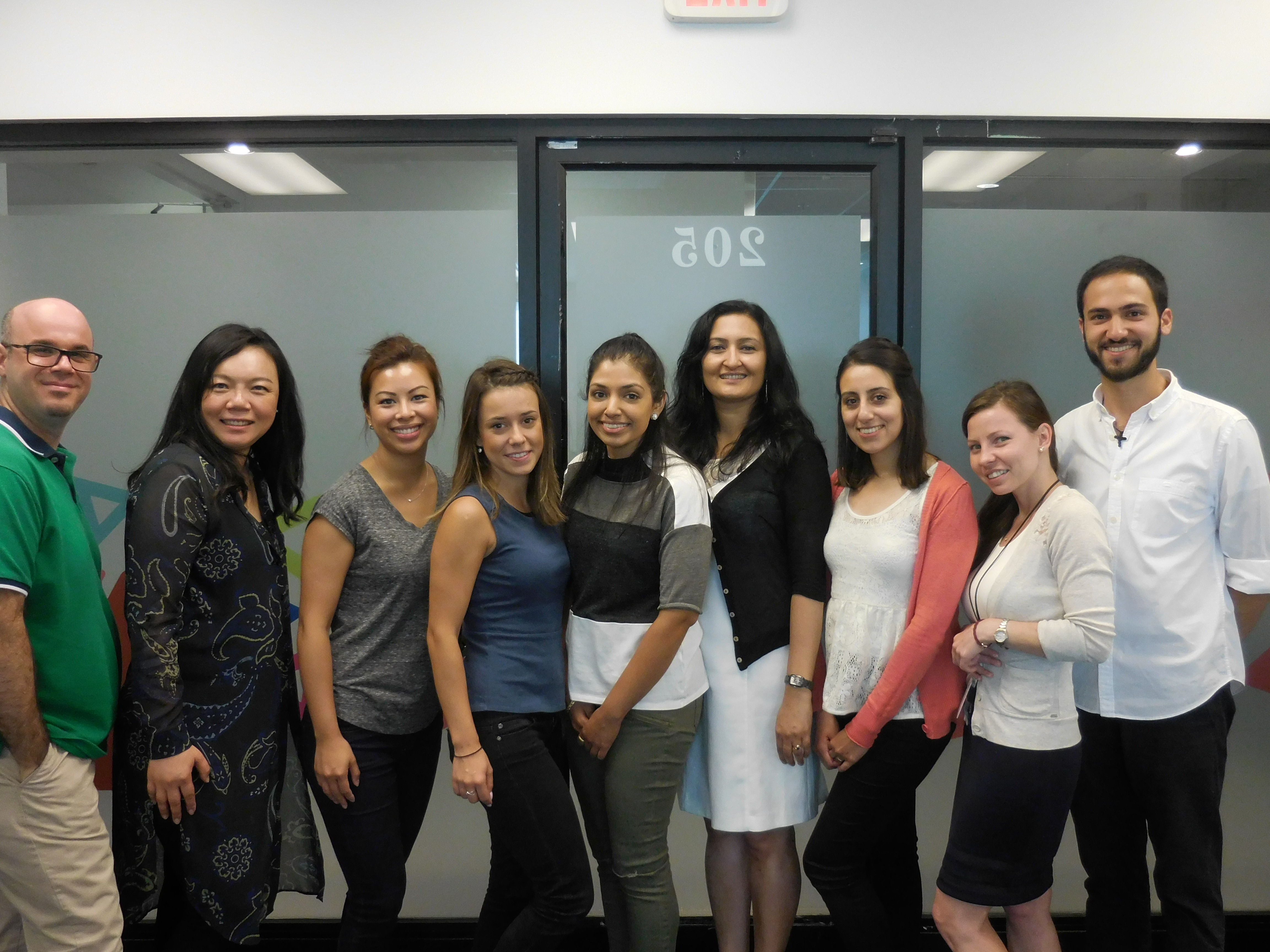 Career Potential and Communication Skills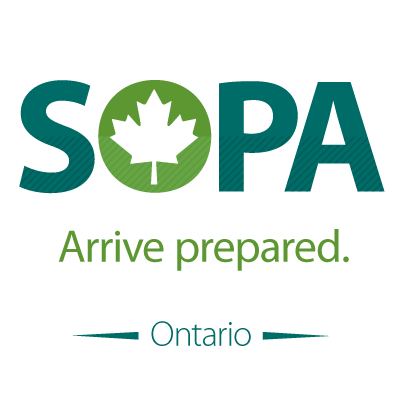 Mehul Patel, an IT Professional from India, is currently working as a Projects and Account Manager at Vsourz Digital (a web design and e-commerce digital agency) in Toronto, Ontario.
Before landing in Canada, Mehul Patel took SOPA's Soft Skills: Professional Communication course. Throughout the course, Mehul worked hard, had a positive attitude and always went above and beyond for each assignment. Having witnessed his strong initiative and personable nature, I was not surprised to hear that he was able to land a job in his field, in just a little over a month after landing!
Mehul says: "Communication plays an important role in any workplace environment and is also a key to unlock your career potential. I guarantee SOPA knows this best, as it has given me an opportunity to understand and improve my professional communication skills which I would never otherwise had a chance. I was in India when I was taking this course, but at the same time I could attend this program and remain in touch with my instructor in Canada. It was all perfect for me – the course facilitator, the online system, the well-paced, assignment-based learning environment.
The course has immensely helped me in integrating and adapting to the Canadian work environment, instilling cultural awareness, and teaching me an essential skill of working with a culturally diverse set of people. My new  job requires me to connect with new people, interact with them, understand their needs, respond effectively, present solutions, and participate in group meetings – I could see this course shaping and helping me at every stage of these interactions. I continue to remain thankful to Planning for Canada for connecting me with SOPA, Andreea for recommending this course, and Caroline for being an excellent facilitator, friend, and mentor throughout the journey. I highly recommended to all newcomers no matter where you are and at what stage of career you are in."
We thank Mehul for giving us the opportunity to share his success story and wish him and his family all the best for the coming year!
– Caroline Purver
Cultural Communications Facilitator, SOPA Ontario
"Communication plays an important role in any workplace environment and is also a key to unlock your career potential. I guarantee SOPA knows this best, as it has given me an opportunity to understand and improve my professional communication skills which I would never otherwise had a chance."Mehul Patel
---
Ella's First Job in Canada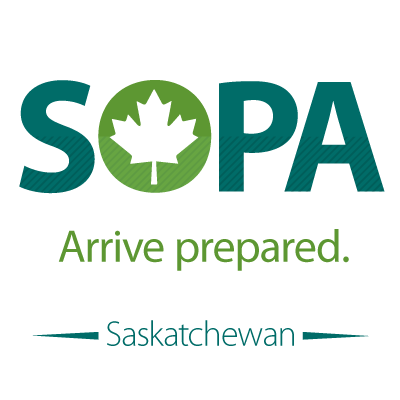 It didn't take long for Ella Oteze to gain employment after landing in Regina. Ella is an industrious and outgoing career Mathematician from Nigeria with over ten years of experience in the finance and banking field.
This experience, paired with new skills developed with SOPA's pre-arrival courses, provided her the confidence that led to her new career at CIBC as a Financial Services Representative. She describes the Job Search Strategies course as "…all-encompassing and a greatly recommended course for all immigrants," as it gave her knowledge on how to integrate into the Canadian workplace.
While still in Nigeria, Ella was referred to a number of post-arrival services to help her smoothly transition from pre- to post-arrival. After landing in Regina, in order to build on the momentum from the SOPA Program, Ella went on to use the services she was referred to at Regina Open Door Society. Her Employment Counsellor there gave Ella valuable insight into the banking industry in Canada which differs greatly from Nigeria. They worked together on her cover letters, and, after her job offer, she praised the counsellor of truly going "above and beyond" to assist in the career transition.
Some final thoughts from Ella on her experience in the SOPA program: "I have discovered new ways to search for a job. I have learned how to target my resume and cover letter. Before the SOPA's Job Search Strategies course, it was copy and paste to apply for every job opening, but now I know better. It has raised my confidence level and I now believe in myself more than ever before and have the CAN DO spirit."
She says her ability to make people laugh and intelligence in mathematics is a surprising combination, however we think it's a great formula for success in Canada!
– Lisa Williams
Job Search Strategies Facilitator, SOPA Saskatchewan
Job Search Strategies = Success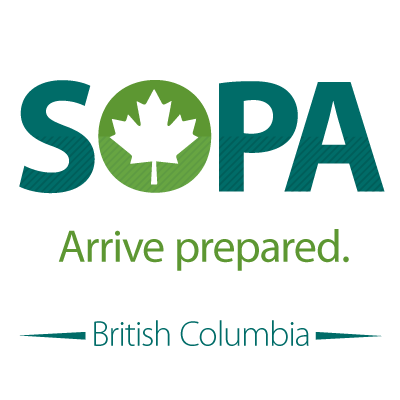 Vivek and Manisha decided to move to Canada and chose British Columbia for its beauty, opportunities, and ethnic diversity. They heard about SOPA from Planning For Canada and decided to explore further by starting with the Job Search Strategies course. They discovered various methods of job search strategies from SOPA and, as their facilitator, I provided prompt feedback and support.
Vivek and Manisha completed the Job Search Strategies course and came with a better understanding of the labour market, job search and the challenges that they may possibly face after arriving in Canada. They learned about the importance of a proper resume, interview skills, first impressions, how to dress for interviews, and more.
Among the many referrals made by SOPA for the clients, Manisha was referred to 'Dress for Success' and Vivek to a 'Moore's: Clothing for Men' Event, both sponsored by MOSAIC.
On arrival, they were encouraged to attend a job fair in Surrey, BC, where they found out about different companies and met with many job recruiters. They were delighted to say that within only 2 weeks after arrival they had several job interviews. So, Vivek found his first job in Canada and now works at TELUS as a customer service representative. Manisha got a job as a Human Resources Assistant, but continues to look for her dream job and additionally volunteers at MOSAIC.
In their own words "a special appreciation and recognition to our facilitator and the [SOPA] team for continuous support and motivation throughout our journey to Canada. Manisha and I are looking forward to starting a new life in Canada and giving back to the SOPA program which helped us immensely in having a smooth transition to Canada."
– Linda Ragoonanan
Job Search Strategies Facilitator, SOPA British Columbia
Small Talk Works!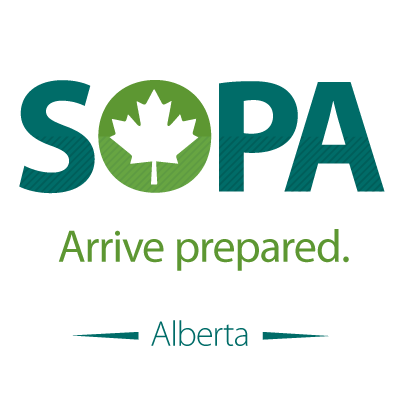 One day, shortly after arriving in Edmonton from The Philippines, Ria and her son insisted on taking the bus to a museum instead of waiting for her uncle to drive them. She wanted to be more independent in getting around the city after-all. While at the bus stop, she asked a gentleman if they were on the correct route. He confirmed and started chatting with Ria. Familiar with the Canadian culture and small talk, from SOPA's Soft Skills: Professional Communication course, Ria chatted with the gentleman and told him that she is a nurse. She also remembered advice from her Job Search Strategies facilitator to always bring a notebook with her. So when the gentleman told her he knew of a job opportunity in her field, she took out her notebook and jotted down all the details.
"I found this job opportunity because of what I learned from SOPA courses! This conversation on a bus stop showed me that small talk and networking are very important in Canada."
After applying for a healthcare aide position and attending her first ever job interview in Canada, Ria was offered the job, just 2 months after arriving.
"I've applied all the strategies I learned with SOPA, from making a Canadian resume to being confident in the job interview."
Her settlement in Edmonton with her 14-year-old son is going smoothly. Within a few months of their arrival, they were able to get their own apartment and Ria began working towards an Emergency Medical Responder (EMR) certificate. Her short-term career goal is to become a registered EMR, while in the longer term she hopes to work as a nurse, specializing in psychiatrics. Ria's son is on the honour roll and he plays on the school's varsity basketball team.
"We're doing really well and adjusting so fast within the Canadian culture and society, and this is mainly because SOPA prepared us so well."
– Rubirose Ong
Cultural Communication Facilitator, SOPA Alberta Team
"I found this job opportunity because of what I learned from SOPA courses! This conversation on a bus stop showed me that small talk and networking are very important in Canada." Ria
SOPA Graduate Interview
Arriving in Canada: Before and After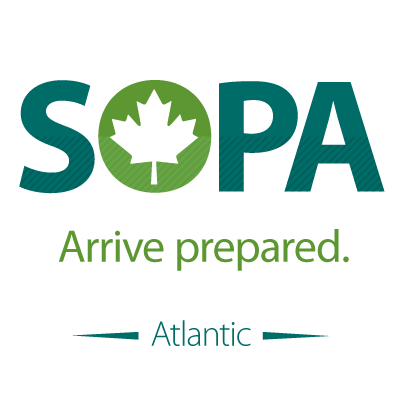 Recent SOPA graduate, Nikita Neveditsin got
a job offer just 2 months after arriving in Halifax!
Christine Wall, SOPA Atlantic Cultural Communication Facilitator, who worked with Nikita in the Soft Skills: Professional Communication course, asked him to share his thoughts on his success in finding the job so quickly.
Tell us about your job in Canada.
I work as a technician-programmer at Mathematics and Computing Science department at Saint Mary's University. I have varied interesting tasks here including creating pieces of software, administrating Linux servers, interacting with professors and students. I have to learn new things every day, and I really like it!
How did your SOPA courses best prepare you for working in Canada? Can you give some examples?
I took the Soft Skills: Professional Communication and Job Search Strategies courses with SOPA. Both courses were extremely useful for me. The Professional Communication course helped me to become prepared for Canadian workplace culture. I learned how to avoid using words that are 'normal' in my country but might be offensive here. Recently, I made a presentation at my workplace, which went well thanks to the SOPA courses.
It is hard to overstate the importance of the Job Search Strategies course. It helped me a lot to prepare for my first interview in Canada, which was so successful that I got a job offer. Thank you ISANS and especially my facilitators, Christine Wall, Hajrija Conrad and Lydia Mans for the great courses and support!
Before arriving in Canada and starting your job, you probably imagined what life was going to be like for you, both at work and at home. After settling in your new home and starting work, what were some situations that you weren't prepared for or that surprised you?
At first, I thought that it is not that hard to find an apartment for rent. Many property owners did not want to lease an apartment to my family because we did not have either Canadian credit history or a job, so it was very difficult to find a place to stay. Second, I was not prepared when my employer asked me to provide phone numbers and email addresses of my ex-colleagues for references because in my home country there are not too many people who speak English fluently. Fortunately, some of my ex-colleagues from Russia have good English, so they supplied the information needed. But what really surprised me here is the fall season. Weather was amazing, and Halifax was very beautiful. In my hometown, we had snow in late October, so I have never seen so many colorful trees in fall.
What do you think of our Canadian winters so far? Have you tried any of our outdoor activities like sledding, skating or snowshoeing? How do you plan to stay active this winter?
Winter in Nova Scotia is not as bad as I expected, it is mild. However, wind chill here in Halifax sometimes can make me feel colder than -35°C in Russia. The weather was surprisingly good during the holidays, so my family and I enjoyed it. I have not tried winter outdoor activities here yet.
What are your best pieces of advice you could give someone who is just about to come to Canada to look for a job or to start a new job?
Prepare as much as possible and take SOPA courses! The courses can really help to prepare for a new job. Also, find somebody at your current job who speaks English well who can provide a reference for your first job in Canada.
Describe your new life in Canada in 3 words.
Fresh, pleasant, interesting.
"It is hard to overstate the importance of the Job Search Strategies course. It helped me a lot to prepare for my first interview in Canada, which was so successful that I got a job offer."Nikita Neveditsin
SOPA Partners
SOPA Newsletter 5th edition